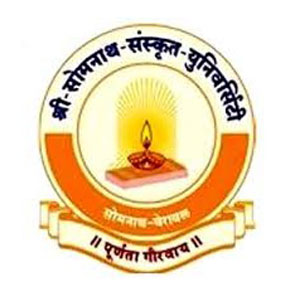 Shree Somnath Sanskrit University, Veraval was established by Government of Gujarat through an Act of Legislative Assembly passed on April 1, 2005. University Grants Commission gave approval under section 2 (f) and included it in the list of recognized Universities on February 17, 2006. Academic Sessions of Colleges began from June 2006 and Post Graguate Sahitya Department was established on July 20, 2006. It is the Public State University with Sanskrit as its medium of instruction, having 7 Faculties, 1 Constituent College, wherein more than 283 students on campus are pursuing higher studies under the care and supervision of 21 teaching (16 Permanent) and 32 (21 Permanent) supporting staff members. More than 4141 students are registered in the University affiliated Colleges/Institutes/Centers in the academic year 2014-15.
Until date, University has given academic affiliation to 35 Colleges/Institutions including University Sanskrit College and one B.Ed. College accross Gujarat. At present, 25 Diploma Centers and 38 P.G.D.C.A. Study Centers are functioning presently. Further, University has given approval to the world famous 'ARSH' – Akshardham Research Institute for Social Harmony, Gandhinagar and Tattvajnan Mandir Research Institute, Modasa as Research Institutes.
It is the only special Sanskrit University of Gujarat as it offers a wide range of courses in Sāhitya, Jyotiṣa, Vāstuṡāstra, Veda, Vyākaraṇa, Navya Vyākaraṇa, Rāmānuja Vedānta, Swāminārāyaṇa Vedānta, Sarva Darṡana, Navya Nyāya, Dharmaṡāstra, Purāṇaṡāstra, Paurohityam and Yoga. It gives an opportunity for education starting from Certificate Course to Ph.D. In addition to this, English, Computer Applications, Gujarati, Hindi and Sociology are also offered at affiliated Colleges across Gujarat. University conducts its academic programmes under C.B.C.S. (Choice Based Credit System) and Semester System from the academic year 2011-12.
Ṡāradā Bhavana, the University Library contains around 7,000 volumes. Pujya Shri Morari Bapu has made a generous donation of rupees 3 lacs for procuring reference books in Sanskrit and he has inaugurated it on October 17, 2013. It was named as 'Triveni Refernece Library' in the pious memory of Shri K.K. Shastri, Pujya Dongare Maharaj and Pujya Virag Muni. It gives the facility of reading room, issue & return, reference and referal services, book bank, old question papers, selling of University publications as well as University Granth Nirman Board publications etc. at its ouset. Efforts have been made to keep sufficient number of text books for students and basic reference books for the faculty and scholars.
University has state of art Computer Lab with more than 25 PCs. All the departments of the University are accessible through intercom facility. University is ICT enabled.
To know more about SSSU visit their website : https://sssu.ac.in/