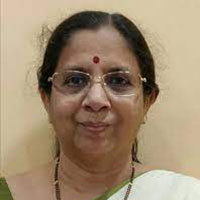 Dr. Ranjana Naigaonkar
Dr. Ranjana Naigaonkar,who has been meritorious throughout her academic career, has done M. A. in Sanskrit from the Marathawada University with the First Position in the order of Merit. She is a recipient of a number of prestigious awards as also the State and National scholarships. Further, she obtained her Ph. D. from Mumbai University on a topic related to the Tantric Religion under the guidance of Dr. Kala Acharya. She has been teaching Sanskrit for the last 33 years. After her retirement from the Somaiya College, she is now affiliated to the K. J. Somaiya Bharatiya Sanskriti Peetham, as a Visiting Facultyfor M. A. Sanskrit course. She is also a Member of Board of Studies at the Somaiya Vidyavihar University, Mumbai. She has been writing entries for the Yoga-Vidnyana Mandal set up by the Maharashtra Rajya Marathi Vishvakosha Nirmiti Mandal.
Dr. Naigaonkar has contributed as one of the writers well as an Assistant Editor in various National and International projects undertakenby K. J. Somaiya Bharatiya Sanskriti Peetham, such as, the Hindu-Christian Dictionary which was a collaboration with the Pontifical Urbaniana University, Rome; the Universal Brotherhood through Yoga; संस्कारवल्ली, वानस्पत्य,समीर-संस्कृत-अध्ययनम्, etc.
She has performed as a Resource Person at a number of educational workshops during her career as well as delivered lectures on various topics at someesteemed social organizations such as, Rashtra Sevika Samiti, SharadaVachanalaya, etc.