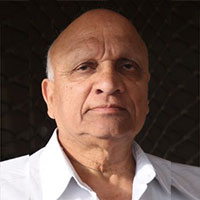 Dr. Jayant B. Bapat
Dr. Bapat is B.Sc. (Hons), Chemistry from University of Bombay, India. He is also M.Sc. (Organic Chemistry), M.S. University, Baroda, India & M.Sc. (Chemical Education), University of East Anglia, U.K. He has received Ph.D. in (Organic Chemistry), Monash University, Australia. He is also Diploma in German Language and Literature, M.S. University, Baroda, India.
He is F.R.A.C.I. (Fellow of the Royal Australian Chemical Institute) & Ph.D. (Indology), La Trobe University, Australia. (Topic: Temple Priests in Western India associated with the God Shiva).
Dr. Bapat is Adjunct Research Fellow, Monash University Asia Institute, since 1998. He is also Authorised Hindu priest and Marriage Celebrant in Australia. He is connoisseur of Hinduism & Hindu Art and iconography.
Dr. Bapat has contributed to 'Hinduism in Australia' in "Many Faiths, One Nation", 1988 &The Encyclopedia of Religion in Australia, Cambridge, 2009.
Dr. Bapat has written six research papers on temple priests in academic journals.
Dr. Bapat has worked as Co-Editor, "The Iconic Female: Goddesses of India, Nepal and Tibet", Monash University Press, 2008. "Conceiving the Goddess, Monash University Press, 2017. Hindus and Sikhs in Australia, D.K.Printworld, New Delhi, 2015. He was the Co-Author of a VCE (Matriculation) book on "Ethics and Morality".
Dr. Bapat has annotated translated the Marathi book , The Lajjagauri and Anandanayaki, 'Lajjagauri' by R.C.Dhere. Monash University Press,2020.
He has also worked for कृष्णाकाठ ते याराकाठ: एका देशांतराचा प्रवास. श्री विद्या प्रकाशन, पुणे, २०११.
Dr. Bapat has won Caroline Chisholm Award for Community Service, Australia. 2006. He has also received OAM (Order of Australia Medal) Award for services to the Hindu community in Australia and to Education, 2011.
Dr. Bapat is currently working on the Goddesses of the Koli fishermen of Western India. Several Journal papers on the goddesses Mumbadevi and Khadadevi.